Setting the second strand of webbing
Gentle Reader,
The Reaper has come to pay us a visit. Do not fear him my children, he is an important part of our lives. With him he brings new hope for our future.
Tonight he has come for Jack. Good-bye dear Jack, what you lacked as a snazzy dresser, you made up for with your DNA. Kinder words I do not have for you Jack. Enjoy the afterlife and may it bring you peace at last.
That same night Jeff proposes and we are engaged and married. There is no time to waste, seeing how I am now in my 3rd trimester. I am now known as Negrita Widow-Forrester-Nielson.
Jeff is a good step-father. He tends to Jackie's needs as I struggle through yet another difficult pregnancy. Jackie is now a toddler; she has her father's eyes and thankfully little else.
During this difficult pregnancy I have taken up dating Jeff. It's not an unpleasant endeavor, for he pleases more than just my eyes.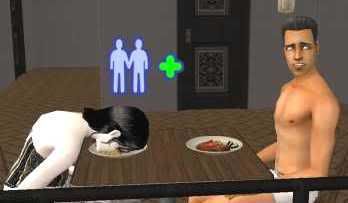 Take note my note my darlings, be well rested prior to the date or you may fail at a dream date and failure is not acceptable. Only during pregnancy do these normal rules not apply. Soon I will give birth and I will need these elusive aspiration points.
Be blessed,
Negrita
return