Fourth strand secured
Gentle Reader,
Upon Aaron's departure from this world, Dan Gattis proposed and soon after, we were married. As you can see, again I was impatient and am already carrying his seed. Although I'm only within my 2nd trimester, knowing the nuptials were soon coming, I secure my platinum and weather the double hits on my aspiration.
The same can not be said for Dan.
For the first time ever, Jackie has brought a friend home. I believe she said his name was Dante, Leeland Dante. He is a deviant failing high school and there can be nothing gained from befriending this poor boy. Jackie's interest in Leeland intrigues me and I'm curious to her intentions.
Finally Jefferson approaches me and we discuss our heritage. The guidelines that govern our lives and the purpose of our existence. My boys are growing into fine young men.
Jefferson Nielson Fortune Libra Criminal Mastermind fitness / vampires – blonde hair 3-7-4-6-6
Jackie Forrester Knowledge Gemini Captain Hero swimsuits / custom hair – black hair 3-7-9-6-4
Geoffrey Nielson Knowledge Gemini Criminal Mastermind swimsuits / glasses – hats 2-7-10-3-8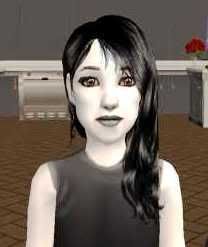 Erin looks just like her sister Jackie. I have offered to change her hair, but so far she chooses to look like me and her sister. She is proud to be a Widow and will not change. It is her choice, and I'm proud of the choices my children have made thus far.
Be blessed,
Negrita
return